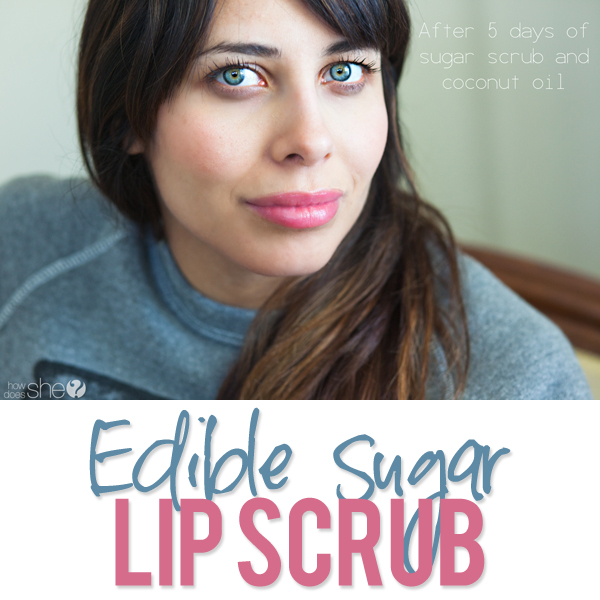 It's date night. Kiddies are home with the sitter and you are all dressed up with your man at dinner. He leans in for a smooch on the lips, then quickly jerks away with surprise and horror in his face. The offender? Your sandpaper-crackly lips.
Homemade Edible Sugar Lip Scrub
Nothing says "Kiss me"  more than dry crackling lizard lips!
I don't know about you, but during this time of the year my lips have the most difficult time staying soft. Once I gave my little boy a kiss on the cheek in the dark and he immediately mistook my rough lips for my husband's rough facial scruff. He had to feel my face to believe it was really me. No joke. But it got even worse! When I came home from a tropical vacation to the dry and must I add FREEEZING dessert- my lips were having a major CRISIS! Don't hide your eyes with what I am about to reveal to you… this is real.
Yes, these are how horrible my lips were getting. With Valentine's right around the corner…it was time to get those babies into kissing condition. I had to have an intervention. ASAP! The solution? Edible sugar lip scrub
So here is an at home remedy to exfoliate and condition your smackers with ingredients you have around the house.
Healing Lifestyles & Spas – Edible Sugar Lip Scrub
Grab some coconut oil, brown sugar, and honey.
Combine 1 tsp. of each.
I added a little almond extract just because the smell makes me happy. Mix them until you get a paste-like substance.
Note: I found these little bead containers work perfect for keeping my edible sugar lip scrub in the fridge.
To exfoliate, simply apply the edible sugar lip scrub and rub into your lips for at least 30 seconds… no need to wipe off with a wet cloth- just lick it! Remember, to give your lips plenty of moisture after exfoliating. See the next recipe below.
I continued to scrub every other day and applied a little treatment constantly on my lips to lock in the moisture and help my lips heal. And what did I use? Coconut Oil of course!
We all know how fabulous it is (why? check this post out here)  so, I combined some of that and vitamin E oil and applied directly after the scrub. Realizing that the oil wasn't staying on my lips for very long, I added some beeswax to the recipe to create a balm. I have to confess that I didn't have beeswax on hand at the time so, I used some of my Burt's Bees Chap Stick in the meantime. Worked like a charm! So to combine them, heat up the coconut oil and beeswax and combine that with a dash of vitamin E oil and you have just created a balm for your lips! Note: If you want  your lip balm to set up more, add more beeswax and less oil. Just putting it in the fridge doesn't work. I tried that and it still stays pretty oily.
Now the fun part. I was curious about adding color. So, I grabbed some fruit. 
And it turns out that they add pretty colors to your balm! After washing them, heat each one in a small bowl in the microwave for like 5 to 10- seconds. It doesn't take much for them to soften up. I found that the blackberries, pomegranate, and raspberries did better if I mashed it in a strainer and let the juice drip out.
I added it to the oil and beeswax mixtures and let them set.
But wait that is not all! Before I was completely done, it occurred to me that my favorite lip balms have YUMMY flavors. So, I pulled out some different flavor extracts that I thought may go well with the coconut oil. Strawberry, peppermint, and almond were my favorites and maybe my husband's favorites too